Like a grand Disneyland display of architecture and sustainability the magical campus pulsates with a lively passion for imagination. But unlike the creation of a pretend land, this place is a reality for the 410 students who learn and grow at the most sustainable school on the planet - the Green School.
After a series of events prevented me from carrying out my plan to climb Mt. Batur for sunrise, I decided to make my day all about education. I booked a tour to visit a school that was brought to my attention by an American woman whom I met in the Singapore airport. I referred to the few notes I jotted down from the conversation about Sue's PhD in education leadership, living in Bali, and the description of the school her 16 year-old daughter was attending. At the time it all sounded too good to be true and today I would find out for myself.
I spoke to several taxi drivers and eventually went back to the first one. He had the most trusting eyes and an honest disposition. Dewa ended up being a wonderful friend and helped me out several times in the following days. But that is another story. Back to the School.
Upon arrival I immediately knew something was special when there were parents, students, and staff all around laughing and talking as though it was a holiday celebration. After signing in, paying the 120,000 IRD (about $11.00), and receiving the temporary tour pass necklace and ear phone I felt slightly part of their community - even if it was for only for a few hours.
Irma, our lovely gentle spirited tour guide walked us though the campus. One of the first stops was a brilliant example of how to infuse conservation with education. They are working to rehabilitate, repopulate and reintroduce endangered birds into the wild. Students learn about the impacts of environmental degradation such as deforestation right along with how to protect the natural environment and nurture a diverse ecosystem.
The next major stop along the tour really sealed the deal for me. They have a mud pit! The philosophy of the school includes physical development and since they are in Bali and embrace some cultural traditions, they teach all students how to mud dance and mud wrestle. My heart leapt when I imagined students preparing to preform during challenge week (their version of exam week) for all the school.
Along the path and down to the middle school area the intentionally open and part-of-nature design of each classroom was apparent. Most of the students where headed home but a few girls had stayed late to tell us of their recent project. With confidence and enthusiasm they explained their plan to rid Bali of plastic. Already they have spoken to the governor and have taken steps to turn their vision into a reality. I asked how this all came about and they responded with an explanation that they were learning of role models in the world. They thought, "why wait until we are old, lets do something now." With the support of their teachers and the Green School community they are indeed doing something now.
The tour contained many more facets of their program. One of their goals is to be completely off-the-gird while also providing clean energy to the neighboring village. While they currently have solar power they also (with the help of a French company) built an innovative hydroelectric system using a method call the vortex. And the students helped to build the dam! They grow food, use banana leaf plates, compost and then use the compost to help build-up topsoil for growing more food. There are staff members who help with this but the students are involved every step along the way.
All of these amazing manifestations of dreamy theory were divine but there was something deeper that sparked my passion for this place. A familiar philosophy, one near and dear to my heart, of living a balanced and four-fold way of life. My mom has said it best when she described that besides giving me love, putting a roof over my head and food in my belly, Camp Miniwanca was the best thing she and my dad ever provided for me. I could hardly disagree.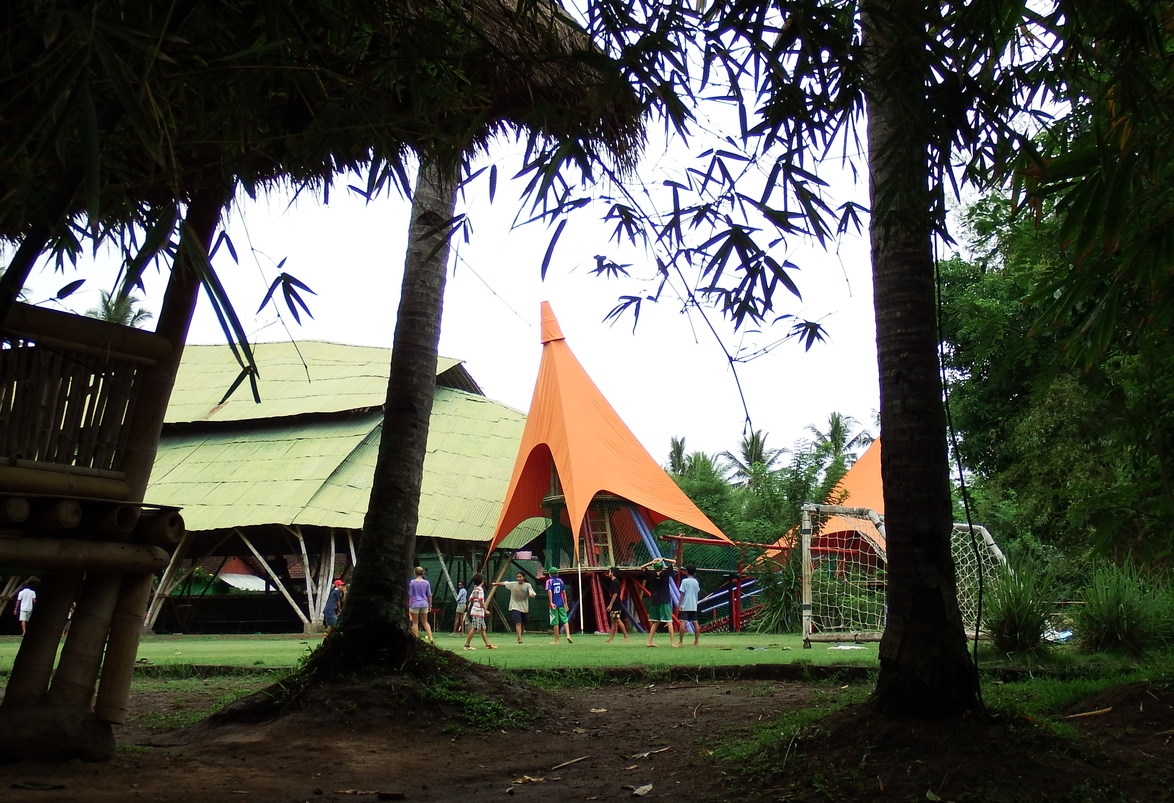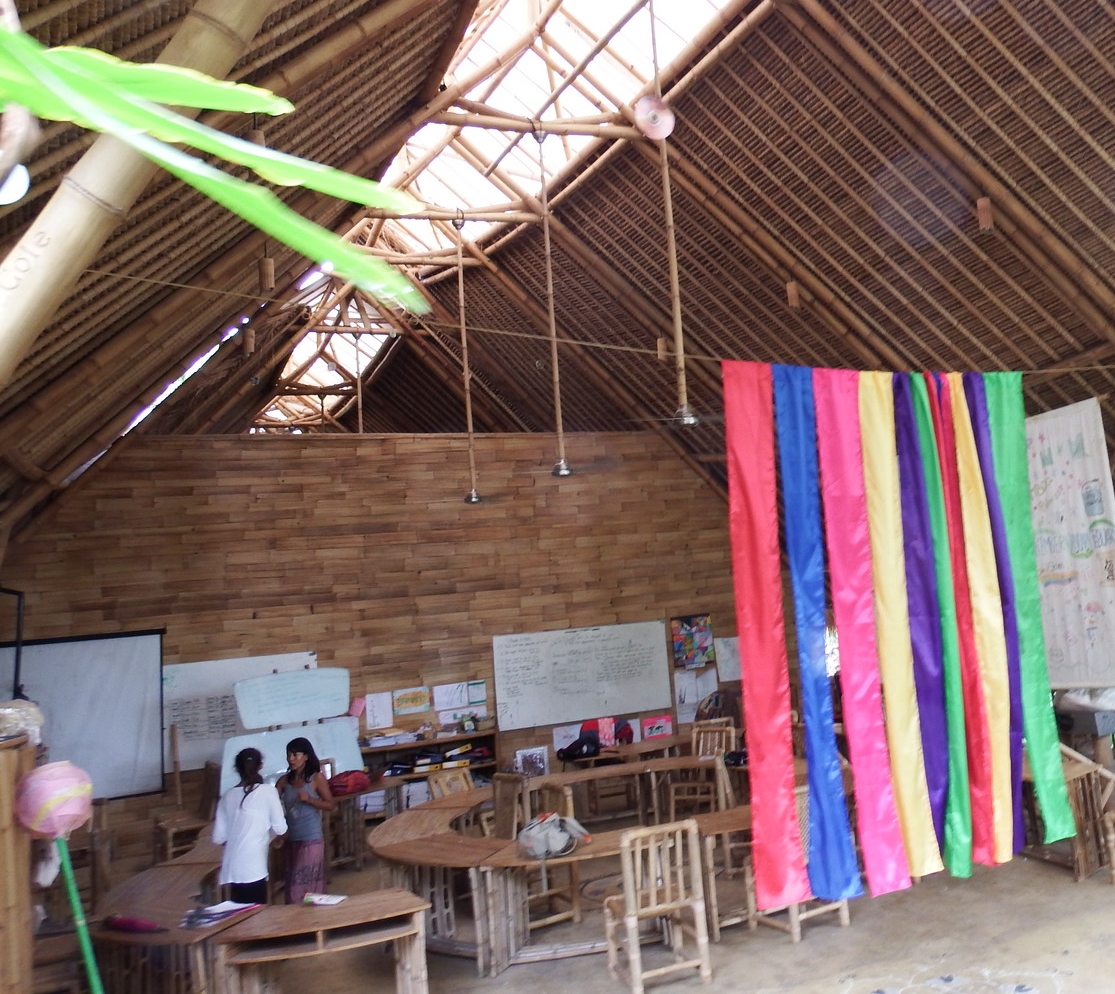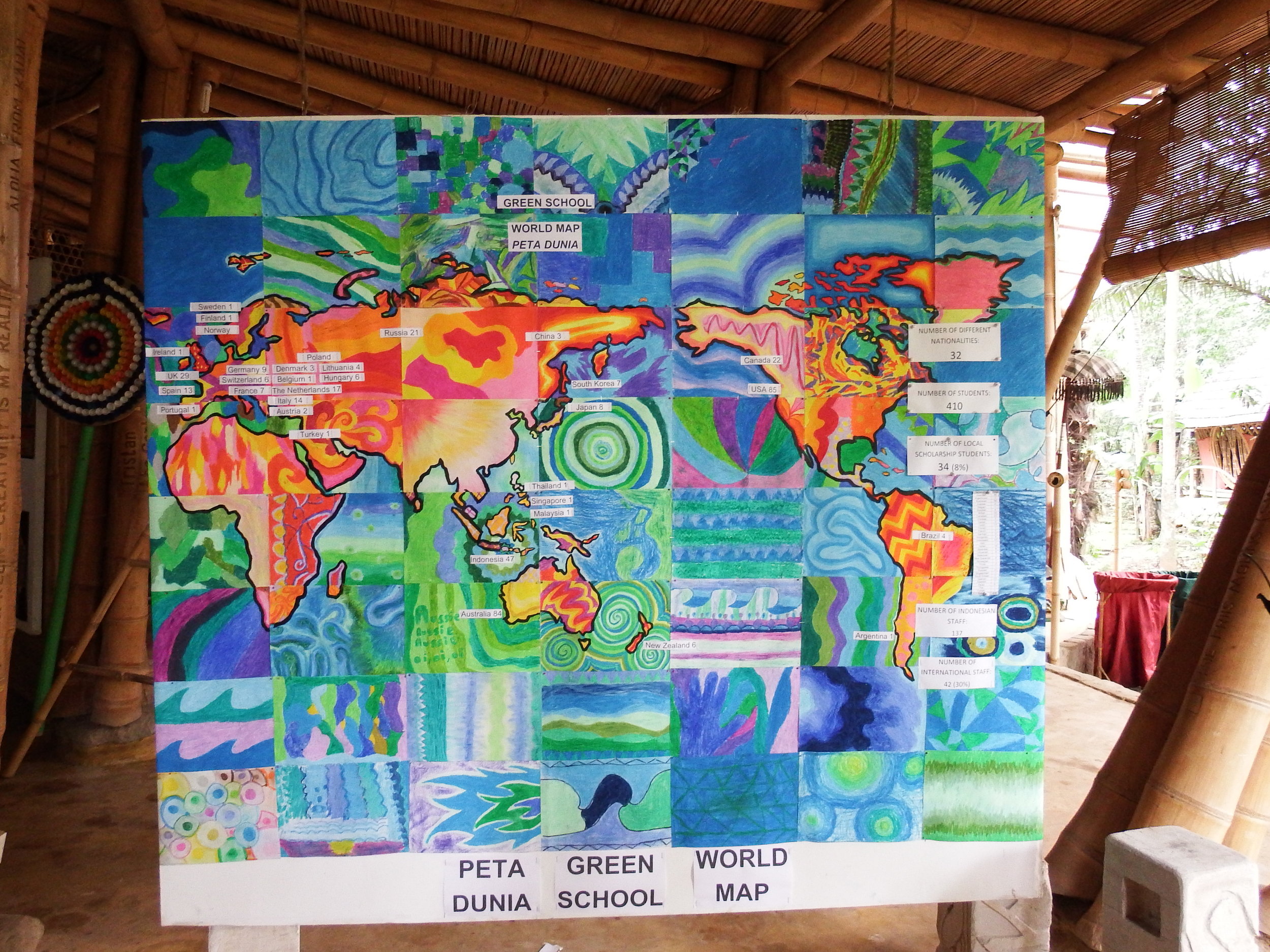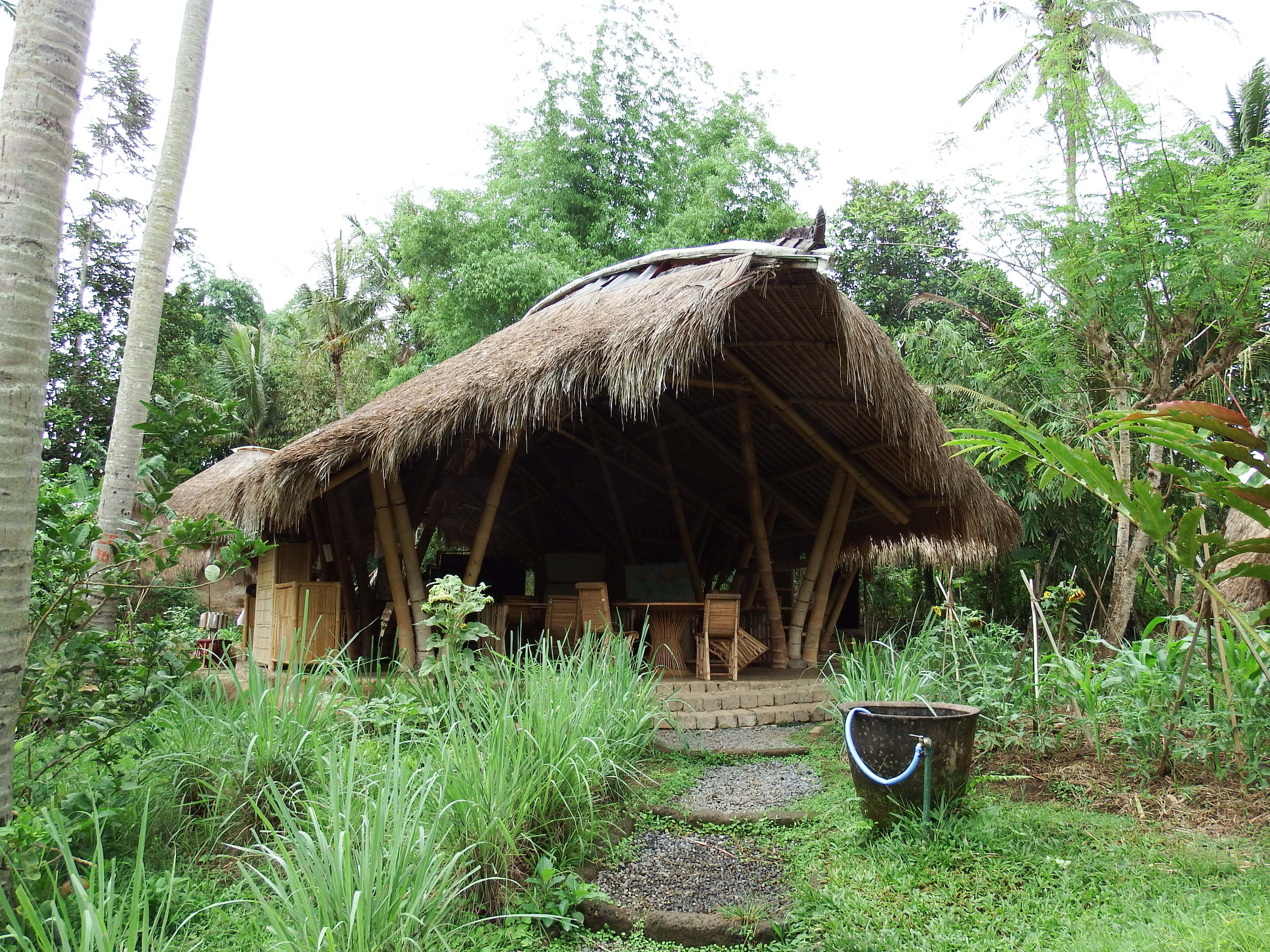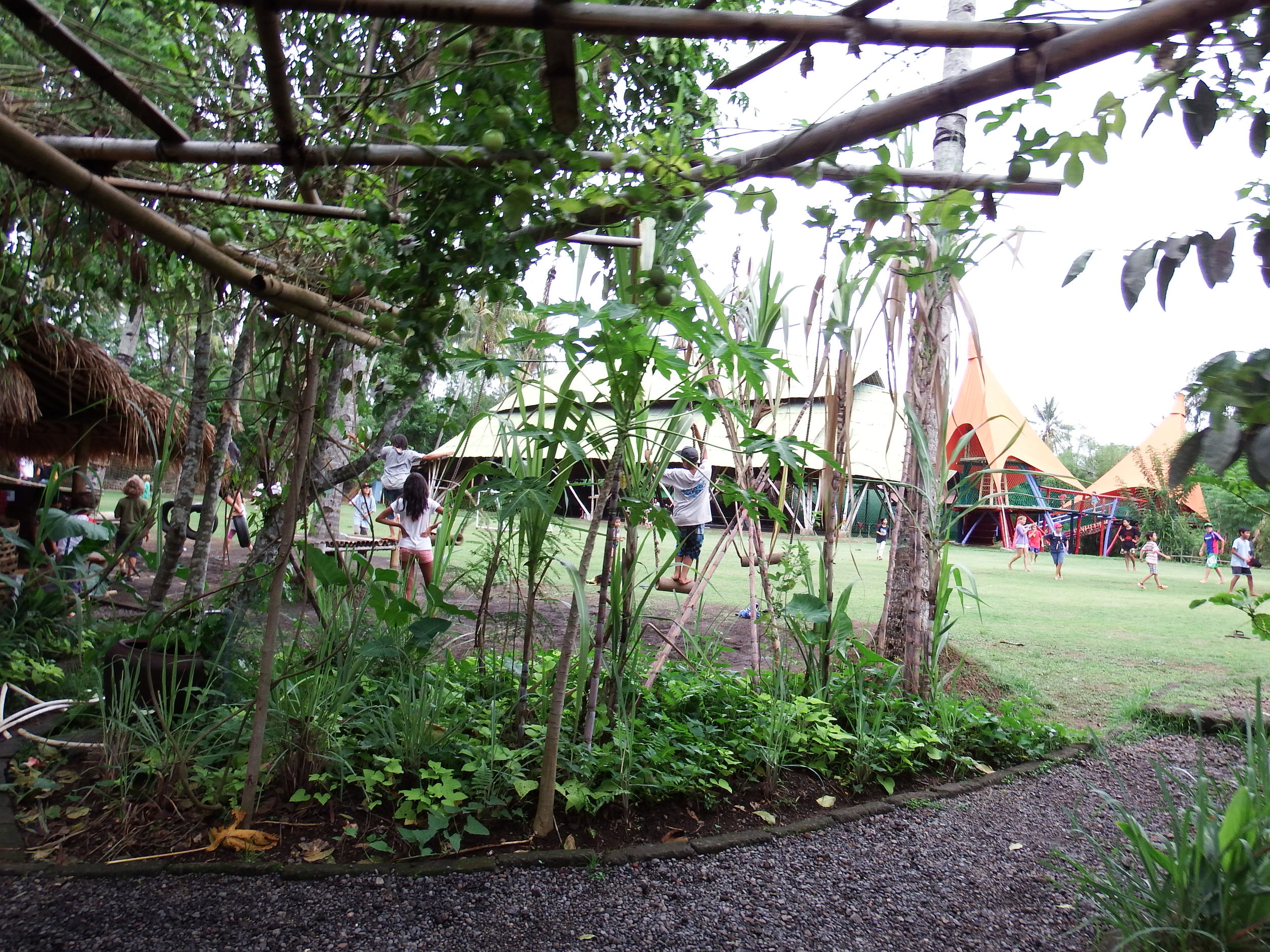 The foundational philosophy I learned at Miniwanca has profoundly shaped my life. For 15 summers I immersed myself in striving to be my own self at my very best all the time, even when I was doing things far outside of my comfort zone. These spats of concentrated mindfulness of practicing balanced living (mental, physical, social, and spiritual) and development of leadership skills have in many ways made me the person I am today. And here, in Bali, I find a school that advocates and practices a way of education that is perfectly aligned with these ideals.
Imagine if this model could continue to spread? How can we be part of this revolution of positive and powerful education? Beaming with energy from the tour I decided to purchase some fresh juice and veggies form the farm stand and a T-shirt from the school store. A friendly face, which turned out to be Sal the math teacher, asked how I was and answering honestly I responded, "fantastic!"